A CHICAGO FIREHOUSE:
STORIES OF WRIGLEYVILLE'S
ENGINE 78

By Karen Kruse


As seen as the lead story in the Chicago "Sun-Times," June 16, 2002, on the FRONT PAGE of the "Book Week" section!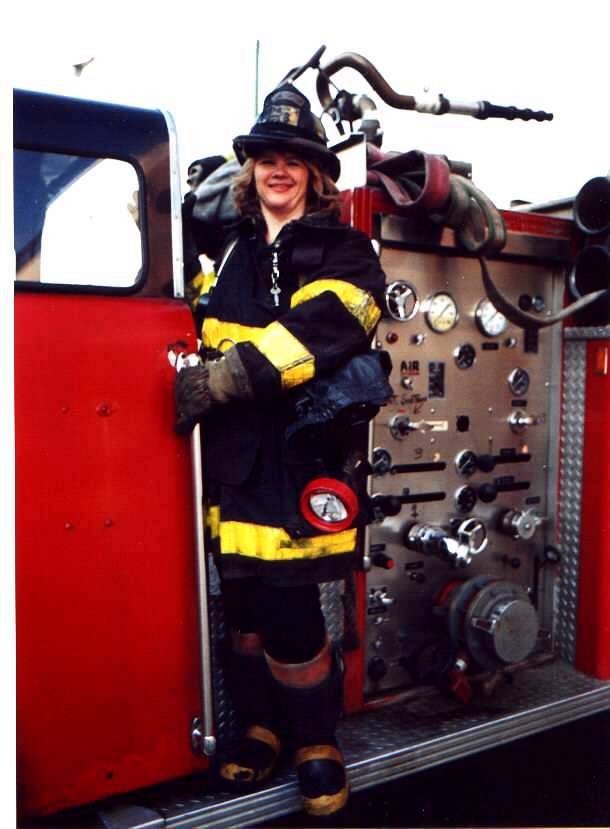 Picture above: Author Karen Kruse in full turnout regalla, courtesy of a firefighter at Engine 78, subject of her book. So heavy was the equipment that she needed help to get up on the engine.
(Photo by Firefighter Marc Patricelli, Engine 78)
Five-alarm self-promotion: How firefighter's daughter "shamelessly" pitches book
By Karen Kruse

Finally, a publisher wants your epic. Can fame and fortune be far behind? Not so fast. Now the real work begins.
In this bottom-line-oriented society, most publishers try to put as many titles on the market as they can. They often don't have the resources to properly promote each of their titles equally, especially if their wares are mostly of regional or specialist rather than national or general interest. They also don't have your connections. So it's up to you to pitch your own book to prospective buyers.
In May, 2001, my labor of love, A Chicago Firehouse: Stories of Wrigleyville's Engine 78 (Arcadia, $19.99 paper) appeared on bookstore shelves and Web sites. It's the story of the Chicago firehouse across from Wrigley Field, where my dad, Capt. Robert Kruse, served the first 14 years of his 30-year firefighting career.
There is nothing like seeing your book in a real, live bookstore for the first time (even better when it's in the window), but that doesn't mean it will be noticed. In order to make that happen, I had to become a one-woman advertising agency with one client: me. I worked hard on my book, and now I wanted everyone to know about it, even if it meant telling one person at a time. To be noticed, I would have to resort to my own savvy.
I knew this before the book was ever accepted for publication. Early on, I started my promotion campaign by enlisting Mike Ditka to write the book's foreword. During his playing days with the Bears at Wrigley Field he frequented the firehouse, and seemed the natural big-name candidate to help me. Shortly after, I talked Fire Commissioner James Joyce into providing the preface. Having these prominent Chicagoans introduce my words is an honor, and having Ditka's name under mine on the front cover certainly doesn't hurt.
The book finally released, I kicked promotion into high gear. I called the obvious places, like traditional bookstores, letting them know I was a local author available for in-store signings. Excited to have my very first signing, I was disappointed when only a few friends attended. I was horrified when nobody showed up at the second signing. I was sure the book had huge public appeal, but where was everyone? Since my name was not a household word yet, I had to get the word out.
Being a Chicago fire captain's daughter, I first made sure my "fire family" knew about me. I sent flyers to firehouses in the city, plus fire departments, unions and museums across the country. I developed a Web site so prospective readers around the world could contact me, making sure it was listed with various search engines and linked to other fire-related sites. As a result, I've sent books to firemen (and their families) around the country, plus overseas to Ireland, England, and France. Having a Web site (www.achicagofirehouse.com) allows technology to work for me continually, day and night.
I never tire of explaining the virtues of my book and why everybody (at least those who would listen to me) needs a copy of their own. I gave lectures on how I achieved publication. Even though I didn't have a clue what I was doing, I presented "From Conception to Publication in Two Years" to groups interested in writing. Wannabe writers learned about the practical techniques I used to find a publisher--and I discovered I possessed a talent for public speaking. I've spoken before such groups as the Midwest Writers Association (and now am a member of it).
Any new pool of potential customers, no matter how small, is fair game. For instance, the newsletter of the Association for Gravestone Studies, of which I'm a member, is printing an article based on a portion of my book--it has a chapter on Chicago cemeteries. This allows me to reach a different audience. I also wrote a piece on heroes for a national publication in which my book was mentioned in the credits.
I became a mobile warehouse, never without a case of books in my car. At a popular fast-food eatery, I struck up a conversation with a fireman waiting for his take-out order, then sold him a book. I've sold them in gas stations, cemeteries, a scrapbooking store, a pharmacy, my beauty salon and my car dealer, not to mention a firehouse or two. Every book is booby-trapped with a sticker giving my Web site and e-mail addresses so I can be found again easily.
Word of mouth is priceless. As people started to talk about the book, my name became better known, helping me get speaking engagements at local libraries and other events. Since publicity is the key to a successful event, I began sending my appearance schedule to newspapers rather than depending on event coordinators to do it.
One of my favorite tales during my speeches is about a clerk at my local White Hen Pantry. She tells everybody about the book. I even dated a Chicago paramedic I met through her who was so taken by my story he bought 13 books before our romance ended.
I've been called "shameless," "ruthless," "driven." I've taken it upon myself to fix incorrect listings of my book on various book Web sites (it's amazing what a few well-placed e-mails will do). I've given an interview on America Online and have been taped for a local cable access channel.
Asking people for help has brought results. I approached NBC-TV and won a morning spot during Fire Prevention Week last fall. Shortly thereafter, WGN Radio interviewed me for 75 minutes on a Sunday afternoon.
Neither opportunity fell into my lap. In each case, I approached the stations multiple times, explaining the book and its significance to their viewing or listening audiences. I talked about how much fun I'd be on the air, too. I'm still hearing from people who saw or heard those interviews, having made the most of my 15 minutes of fame.
To write well, you need to be an expert on your subject and to be passionate about it. The zest I have for my book seems to draw people. After my speech at a Midwest Writers event, a fellow member offered to help get me coverage in a local publication. Three weeks later, I was the publication's Personality of the Week, complete with a dandy picture. That gave me the idea other newspapers might be interested. I suggested to one monthly neighborhood newspaper that I might make a fabulous interview. It worked, giving them topical news and me more exposure.
I continually appreciate and thank the media for the press they give me with trinkets such as magnets of my book cover (printed on my own printer), gag gifts (for special reporters), and thank-you notes, complete with a picture of me in front of my beloved Engine 78. Reporters like to be appreciated. One secret to my success has been in saying, "Thank you," especially where it's unexpected.
Recently I befriended a reporter, and as a result my picture appeared on the front page of a neighborhood newspaper--and the story wasn't even about me. Even so, my name and the title of my book were both prominently mentioned in the caption.
Do I live a charmed writer's life? Guess again. Not every avenue I've tried has worked. Most media requests go unanswered. I send mountains of e-mail, have an enormous phone bill, and live to stick stamps on stuff in the hope one connection will be the big break that catapults my book into superstardom. I've even written to Wrigley Field management offering to throw out a first pitch. (I told you I'm shameless.)
Promoting a book is not for the faint of heart. That takes perseverance and unusual tactics--necessary to get a book noticed in today's competitive market. That takes guts, a will to succeed, and a lot of hard work, but it's well worth the effort. A Chicago Firehouse is now in its fourth printing.

Nominated for the Pulitzer Prize in History!


To contact me, the author, click here:

To return to the Home Page, click here:

To see related links, click here:

To see my upcoming appearances and awards, click here:

To read my reviews and comments by others, click here:

To read articles from the Daily Herald, the Courier News, the News-Star, and the Booster click here:

To learn about other pieces I've written, click here:

To read The Family Business and get a good taste of my book, click here:

To see the Foreword, Preface, and Table of Contents, click here:

To read Karen Kruse's Biography, click here: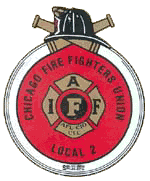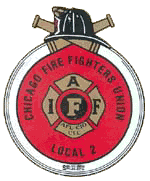 Copyright 2001
Karen L. Kruse. All rights reserved